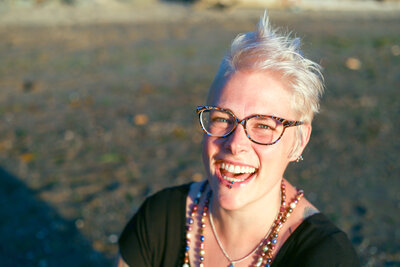 Abby E. Murray
Poetry
Abby E. Murray is the editor of Collateral, a literary journal concerned with the impact of violent conflict and military service beyond the combat zone. Her first book, Hail and Farewell, won the 2019 Perugia Press Poetry Prize and was a finalist for the Washington State Book Award. After serving as the 2019-2021 poet laureate for the city of Tacoma, Washington, she temporarily relocated to Washington, DC, on account of her husband's ongoing military service. She teaches (remotely) rhetoric in military strategy to Army War College fellows at the University of Washington, and she stays alive by writing a poem a week.
Plans for the Afterlife
The young leaf and the dead leaf are really one. – Thich Nhat Hanh Already, at seven, she says things like I know I'll die someday and, as her mother, I have an urge to correct her, explain how her small bones and hands will be her own forever because they have not yet knocked on the door of the rest of her life. But I have no evidence to prove her wrong. Besides, I'm guilty of teaching her how the body has so much to become after it has been us. She tells me once her body is done being her, she's going to be a fish, as if to say at least there's that, considering death is, let's face it, no fun at all, and considering we must get through it anyway, isn't it good to know certain possibilities are bound to even the most uncertain endings? Incapable of deserting this world of the living, we become its next season. We become fish. Already, in my thirties, I am learning to think like a river, flip like a wave between dread and joy. At least there's that.
" 'Plans for the Afterlife' is a poem I wrote the day after Thich Nhat Hanh passed away. Because we live in a country that values guns more than human life—even the lives of children—I've had more conversations about death with my young daughter than I ever expected to have. And she adapts. When I told her about Thich Nhat Hanh, she said she had plans to become a fish after her body was done being her. It broke my heart and buoyed me all at once, to know she knows her life is in danger in the U.S., and that she is already, in elementary school, seeing herself as part of a global, universal community that needs her. "